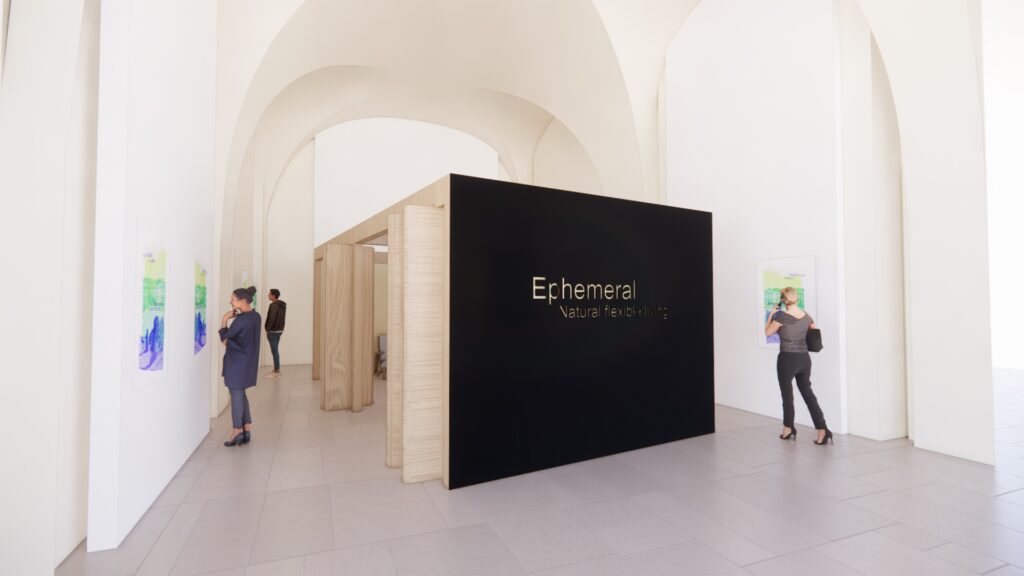 'Ephemeral' showcases a new concept of living – natural and flexible – in a home that transforms with you.
'Ephemeral' enriches the relationship between the planet and people, where rigid systems transform into adaptable ones, where houses become homes. 
Through 'Ephemeral', the Centre for Natural Material Innovation at the University of Cambridge and PLP Architecture show the research taking place in natural materials and flexible systems for future homes that we can grow.
'Ephemeral' proposes the apartment as an open space with fixed services, where residents can add or subtract moveable walls according to their needs. We investigate "soft flexibility", where residents customise their space organically. The ephemeral walls made with engineered timber and digital tools are affordable, modular, and sustainable, and can be placed anywhere within the apartment. The need for flexibility within housing coincides with the need to involve residents in design. Every human has a right to decent and affordable housing that has its own originality and character.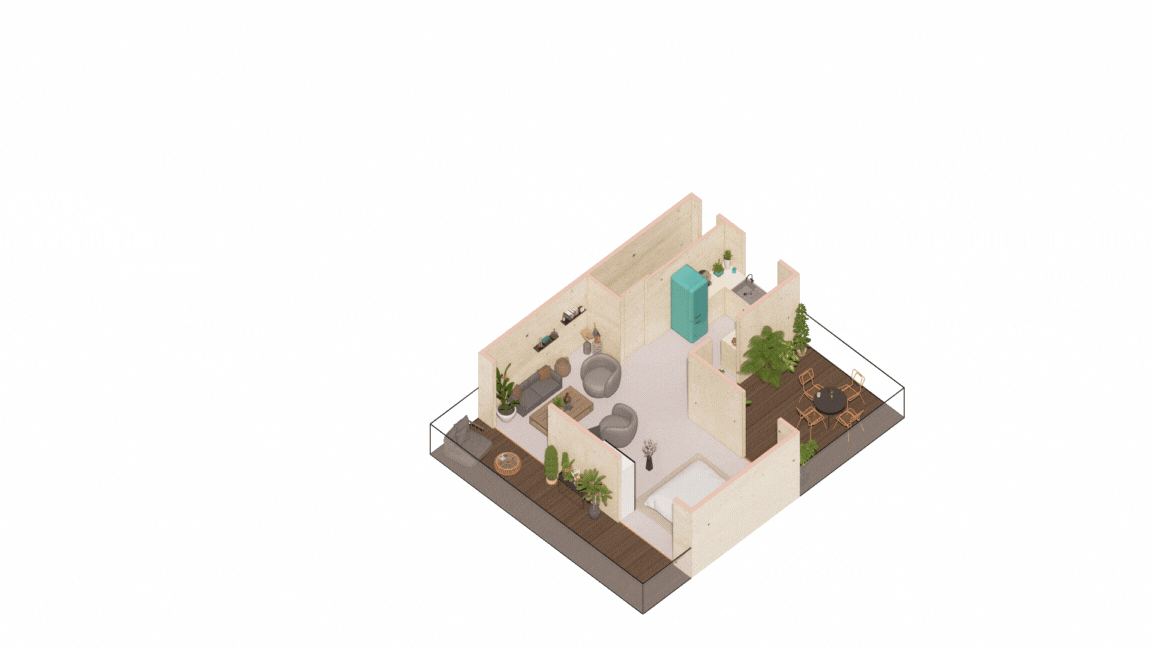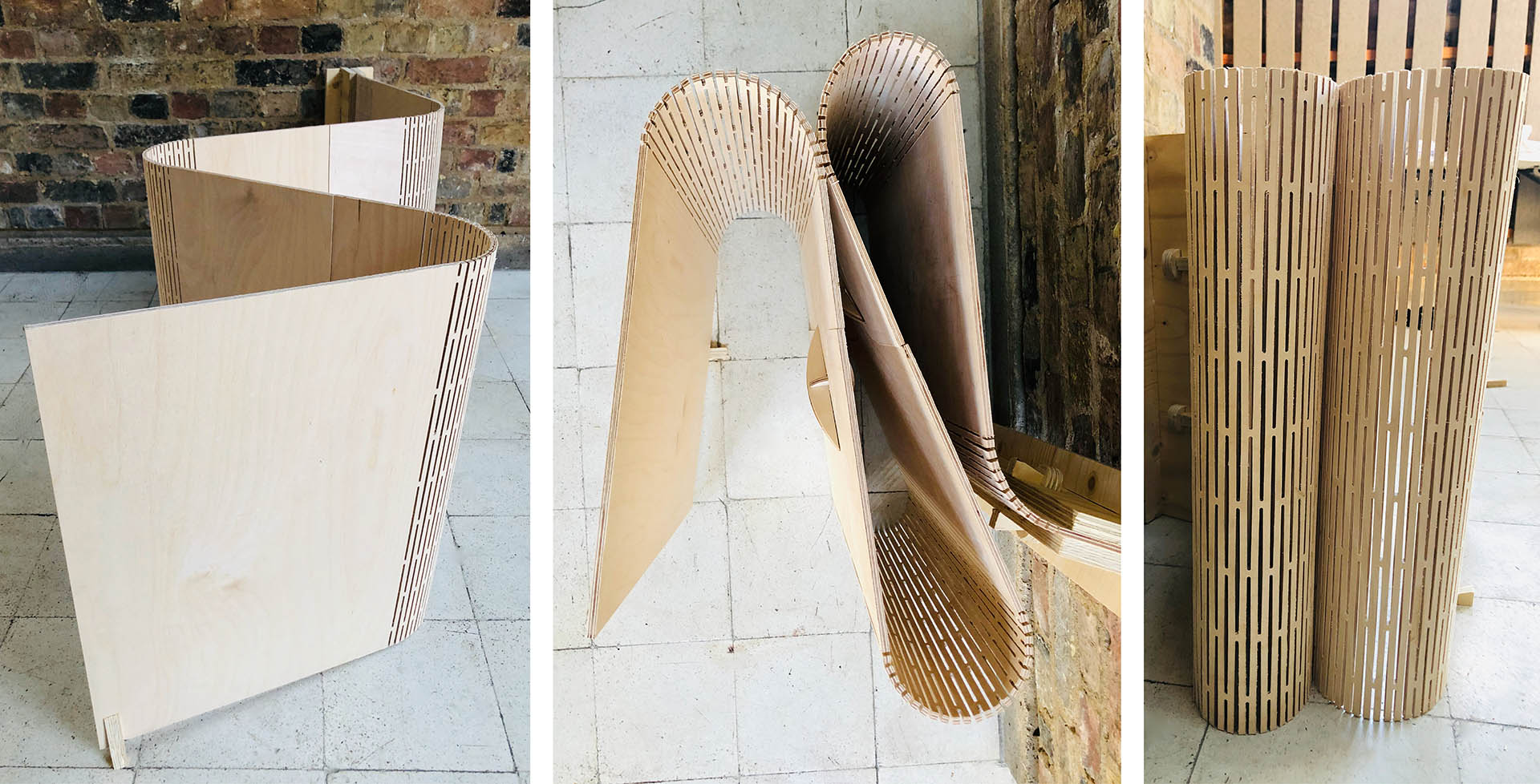 How do we create homes as sustainable, nurturing environments for the people who inhabit them? What will be the tools for flexible, adaptable and low-imprint buildings which enable residents to actively create their spaces based on a simple principle: every human has a right to decent and affordable housing, with its own originality and character, and which does not deplete our shared resources or leave lasting negative traces on our environment?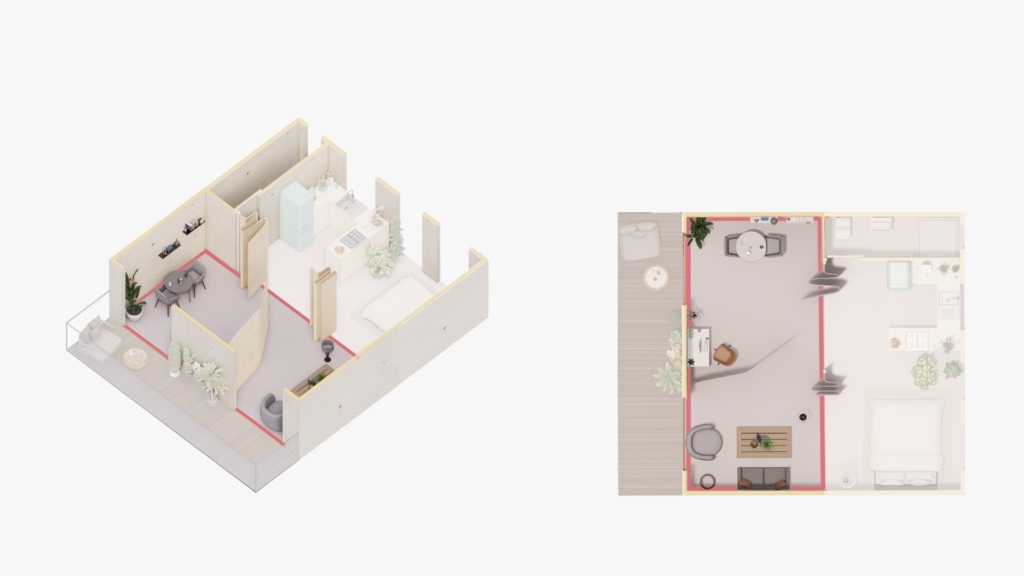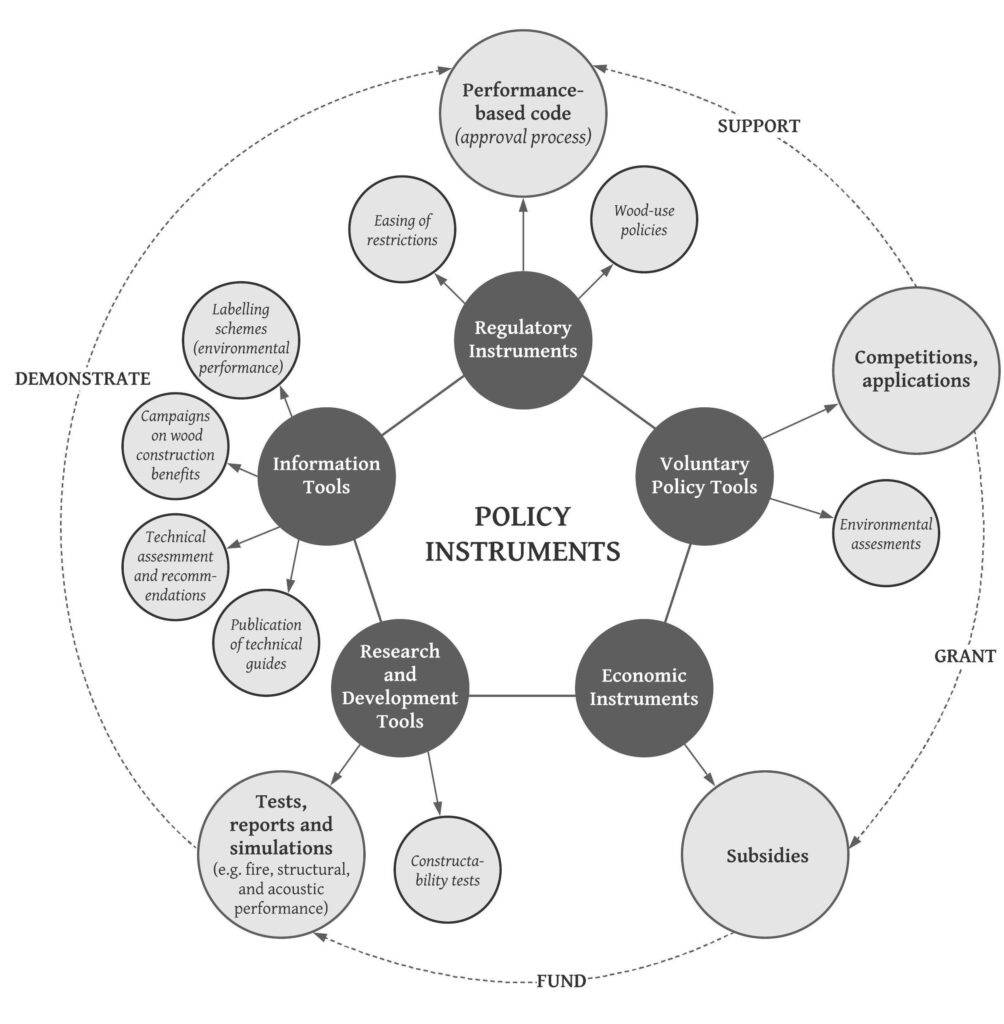 Climate change and the increasing demand for urban housing solutions are pushing the construction industry to provide sustainable building solutions for the future. In this context, timber has emerged as the most promising alternative to densify cities. However, numerous policies should be implemented to facilitate and promote the widespread use of wood in the built environment.
Forests worldwide are a pivotal tool in our fight against climate change. They span from ancient woodlands and sustainably managed plantations to individual trees that adorn our parks and city squares, collectively accounting for more than 30% of global land. As we edge towards irreversible climate disruption, these trees and forests provide a dependable and renewable resource to combat the harmful effects of greenhouse gases.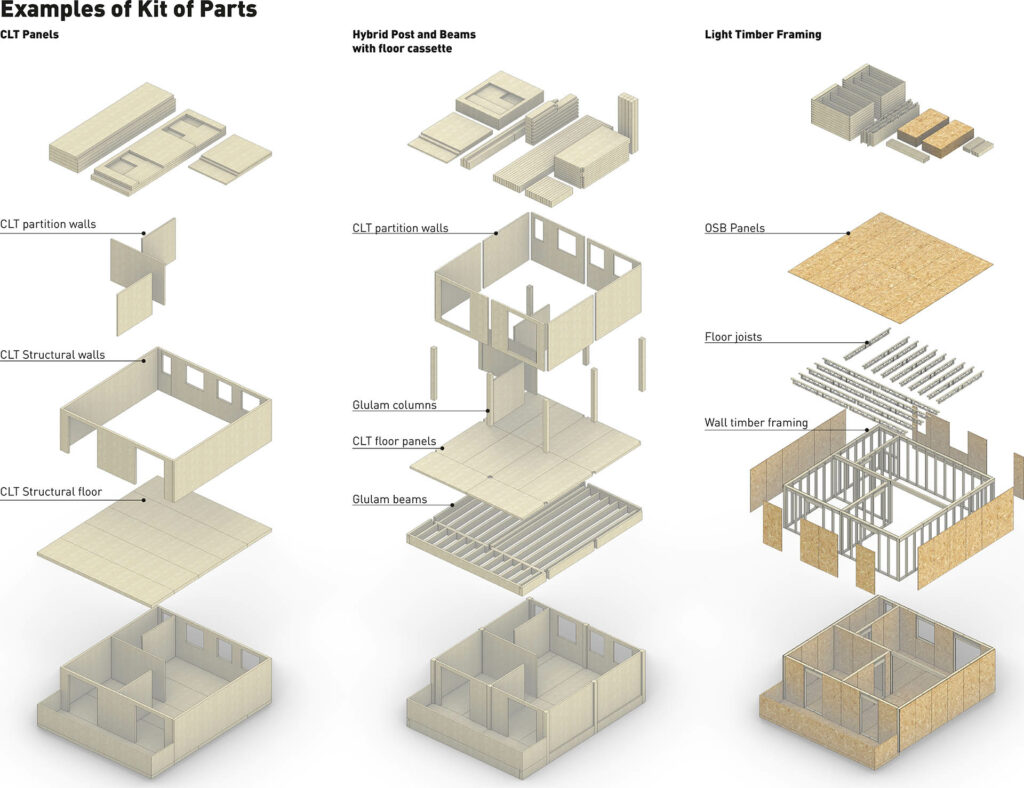 Prefabrication & Kit of Parts
In prefabrication, building components are manufactured off-site and assembled on-site. This substantially reduces the time, cost and environmental footprint of the construction process. Embedded in the production process of timber, prefabrication enables the uptake of natural construction materials and modular kits-of-parts. The unique flexibility in their configuration offers efficient and healthy alternatives to
current housing shortages.
For the past decades, with gender shifts, ageing populations, new ways of forming families, homeworking, globalisation and a population in constant motion, the rigid construction sector and the way we design our cities are calling for a change toward spaces that are adaptable to our changing needs.
Flexibility of Engineered Timber
We have developed flexible partitions with engineered timber and manufactured with digital tools that are modular, affordable, light and that can be placed anywhere within the apartment. These partitions promote short-term flexibility where an apartmet can change daily.
As the construction industry faces the challenge of resource scarcity and decarbonisation, digital fabrication technologies offer opportunities to
rethink buildings with natural materials for contemporary architecture. The juxtaposition of earth, one of the oldest building materials in the world, with cutting-edge technology creates "21st Century Mud". 3D printing with mud enables short supply chains and rapid localised fabrication while providing material efficiency and sustainability.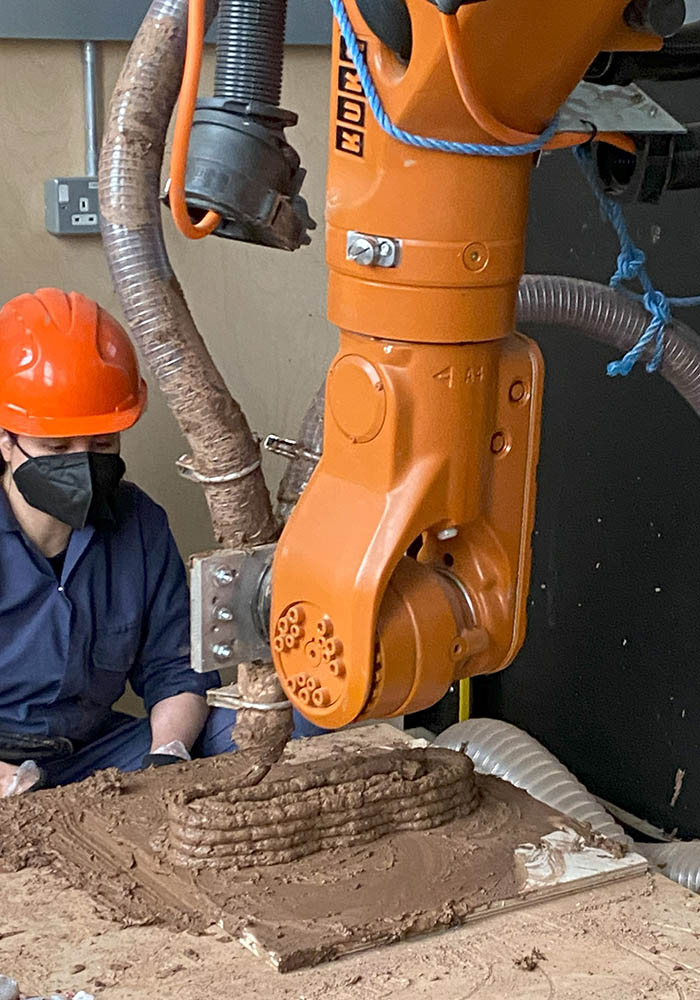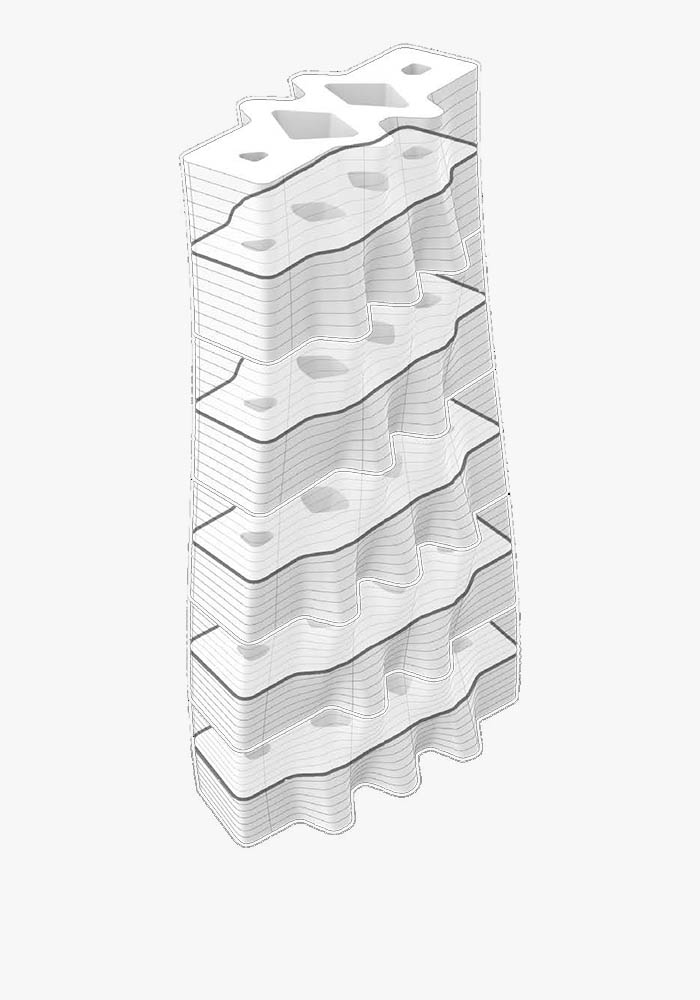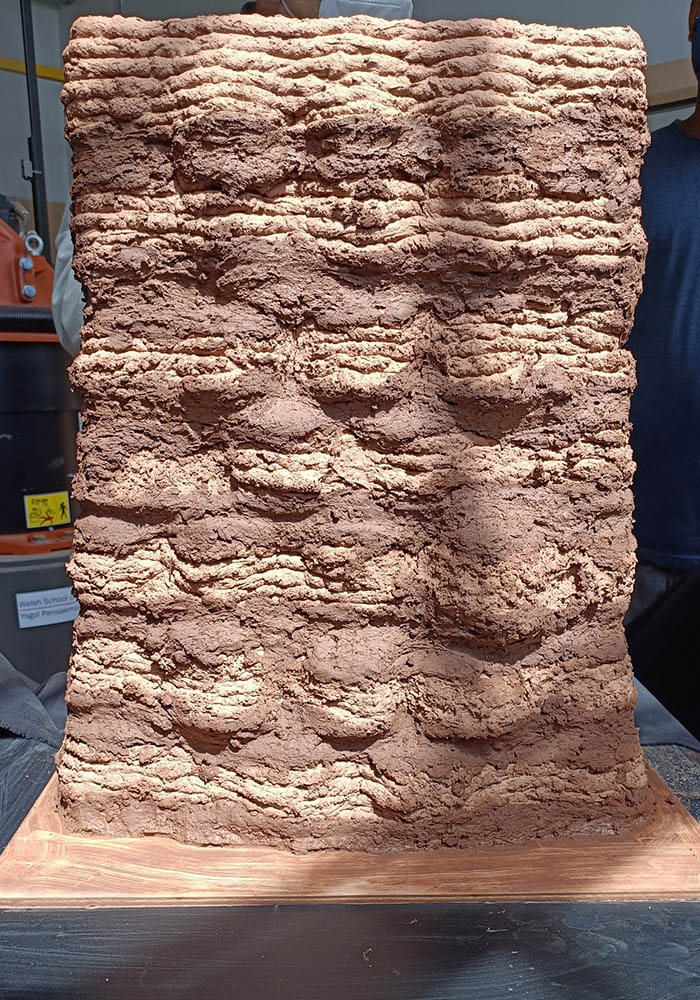 The next era in human history is the Symbiocene, a period of re-integration between humans and nature. We believe architects and urban designers have a role in collaborating with nature to cultivate the urban landscape of the Symbiocene.
PLP Labs' ongoing research has produced a 100% bio-based modular building block that fuses the natural properties of mushroom mycelium with the digital fabrication techniques of 3D-printed wood shells. The building blocks are grown over a period of 4-7 weeks and can be aggregated into various configurations to be used as seating, tables, planters, as well as partitions. 
Designers:
Ana Gatóo
Michael Ramage
Ron Bakker
Supporters:
Laudes Foundation
Arts and Humanities Research Council
The Future Observatory
Material Support:
Rothoblaas
Moso Bamboo
Pollmeier
Stora Enso
CNMI Team:
Mutsuko Grant
Andy McDowall
Harry Mills
Darshil U. Shah
Dario Marino
Yelda Gin
Eduardo Wiegand
Antiopi Koronaki
PLP Team:
Maaike Salters
Savannah Willits
Abhinav Chaudary
Harjit Sembi
Marc Meier
Paul Tupper
Richard Woolsgrove